I always on the hunt for a duvet cover with zipper closure. It makes it soooo much faster to make the bed. Finding a king duvet cover with zipper closure is even harder because most of the easy bedding options out there are for kids.
I don't know why not every brand makes zip up duvet covers. Doesn't seem like the obvious thing to do? In fact, my husband won't change the sheets unless he gets to use the zippered duvet comforter.
I'm amazed more retailers don't carry these or the few that do don't advertise it more. Zip zip hoorah for the few that have figured out zip up duvet covers are a winner!
I want to do everyone else a favor and share some of my favorites for an easy change duvet set. 
Crane and Canopy – All of their duvet covers have zipper closures. I have a nice white duvet cover with zipper closure that I like because it goes with all decor styles.
The Hayes Nova White duvet cover and associate bedding set is so sleek, stylish and versatile. I love the clean crisp look of the piping edge. And of course, nothing beats the convenince of the the zipper duvet cover.
Hudson Park Collection of zippered duvet cover
Fortunately, Bloomingdale's line of bedding – Hudson park Collection – all come with zippered enclosures. Most of them do not adverstise there with the product details, I had to go into the store and check in person to ensure the zipper enclosure were indeed part of the bedding line. Hudson Park Collection duvets have all the basic shades and a few more traditional patterns.
I love the Nouveau bedding collection by Hudson Park. So elegant and classy, sure to fit perfectly for any master bedroom or guest suite.
Restoration Hardware Garment Dyed Bedding Set with Zipper Enclosures
Another favorite brand that carries luxury bedding set with zipper closures is Restoration Hardware. However, only their garment dyed duvets have the zipper enclosure.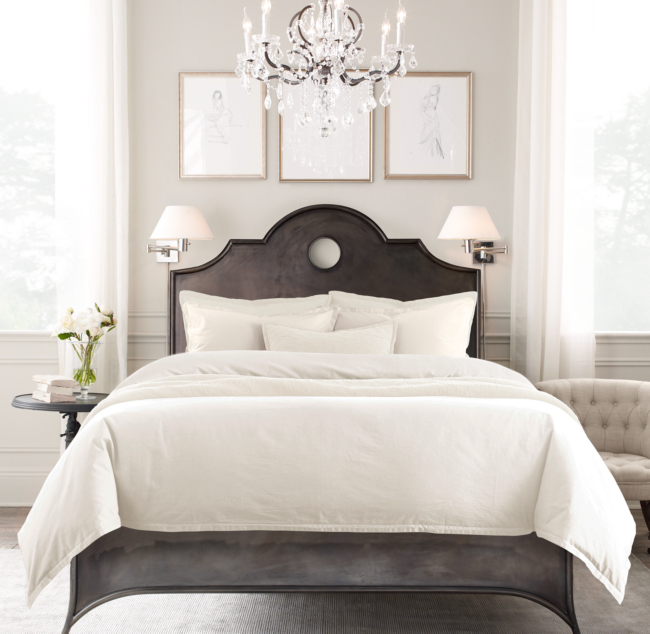 My favorite in this line are the neutral bedding shades.
Last but not least, if you are going through all the trouble to find an easy duvet set, why not find a zippered comforter protector too.
Here is one from Amazon that I like.
Shop this traditional bedroom look here.