I love Joanna Gaines bedroom decor and especially her bedding picks. One of the most memorable looks is the rivulets quilt she uses in one of the earlier episodes.

As it turns out, it's not easy to find a reasonably priced rivulets quilt. There's a lot of other alternatives, a rosette quilt, general ruffled duvet and all sorts of different ruched patterns and such.

In general, if you are going for a more country vintage vibe, pretty much any of these ruched or ruffled bedding patterns will work. I would pick one of the other ones that are not specifically rivulets because more shops sell them and you will be able to get them for cheaper and have more colors to work with.

If you are going for more of a rustic bohemian vibe, then maybe one of the other ruffled or rosette quilts and duvet will do.

Personally, I love replicating the exact Fixer Upper look so the Rivulet Quite lookalikes didn't do it for me.

Here's my quick guide on finding your favorite Fixer Upper bedding duvets and quilts.

Anthropologie Rivulets Quilt
This is it, the exact one they use on the show. Anthropologies stages it with more of a bohemian vibe but it works so well for a farmhouse style cottage bedroom. The quilt comes in all sorts of colors, grey, pink, cream… I love the grey one, it brings a modern feel to a vintage design.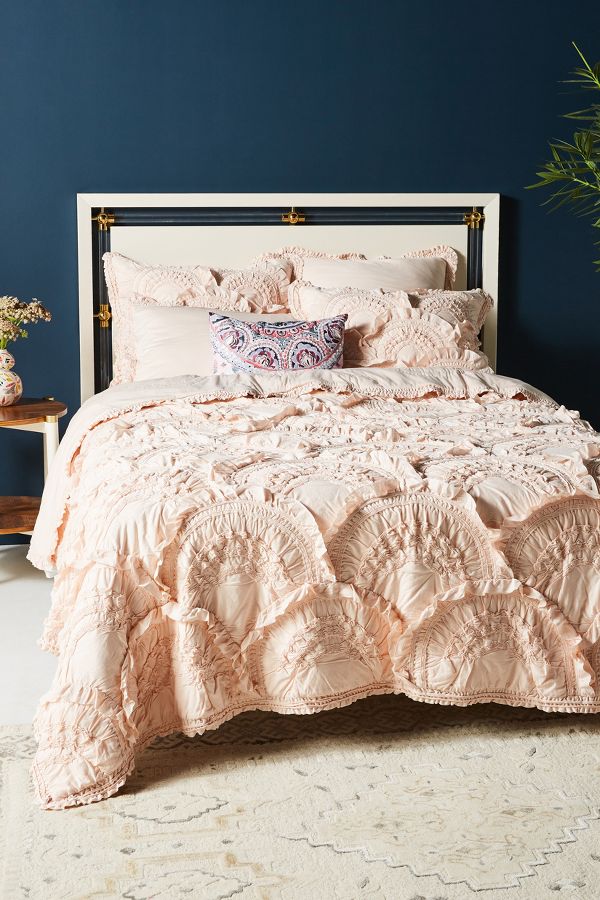 Fixer Upper Rivulets Quilt Look Alike
There are not exactly like the ones she uses or as intricate but they are a little bit more affordable. Bed Bath and Beyond offers a few options in basic colors like grey and white.

Rosette Quilt look alike to the Rivulets duvet

Similar to the rivulets quilt, the rosette quilt is cute as well. I love the more selective use of the applique and probably makes for a more comfortable bedding as well without as much texture going on everywhere. This ruffled duvet seems to only come in cream and other shades of white.
Other Embroidered Duvet Covers

If you are just going to a general ruffled duvet or bedspread, I would consider a toned down version of the rivulets pattern where its is just the stitched pattern and not so much extra cloth and ruffles.

Other Ruched Bedding Options
The basic ruched duvet is a pretty good one to give that vintage style to any bedroom. Here's a few options that are reasonably priced.

Country Farmhouse bedding

You can always go with a pinched pleat duvet. These are classic farmhouse style bedding and there are lots of options out there for a reasonable price. I love the new seafoam and pastels they offer in the Amazon Basics line.

Interested in more Boho Chic Bedroom ideas? Chic out my friend Lauren's article on How To Get An Anthropologie Bedroom For Under $300.
Other related articles: